About HOSHINO NFT
Every artwork with be released with its token.
After purchase, subsequent ownership in the NFT-market will allow for resale if wanted.
Meanwhile, a number of services and roadmaps will be provided with owning one of our NFTs.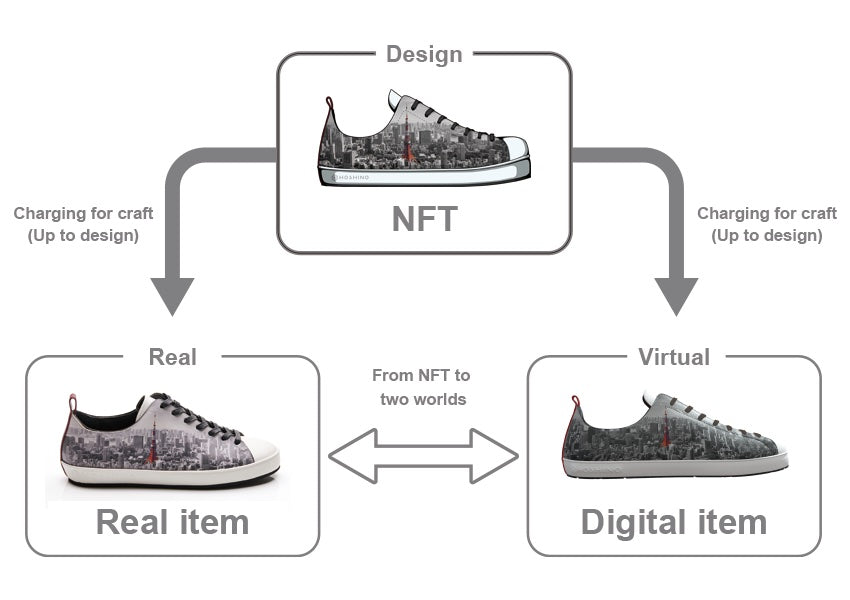 A. How about the detail HOSHINO NFT?
The right to order shoes of the collection "traveling" designs all
Only the NFT owner will have the right to have the shoes crafted by MTO (made to order).
Orders available starting mid-April through our EC site, Ginza Flagship, or trunk shows.
You can also check out our samples and try on our shoes.
Half price shoe orders
Only for the collection "traveling" designs. The sneakers available from 607 USD (tax included; 50% discount from 1,215 USD, depending on design).
NFT Marketplace(1) resale
Prices subject to fluctuation.
You can set the NFT resale price.
A 2.5% processing fee will be charged at the time of transaction (as of March 2022).
Access to exclusive community and special events
HOSHINO's diverse customer base includes many cutting-edge industry leaders.
You will gain access to our private community on Discord(2).
We will also hold special events at both our Ginza Flagship and our trunk shows on a regular basis.
A portion of the proceeds goes toward supporting craftsmanship and education in shoemaking.
(1) An NFT marketplace is an online market for buying and selling artwork.Several marketplaces currently exist, such as OpenSea or Rakuten NFT.
(2) Discord is a social media application commonly used in the NFT industry.
*Orders and aftercare for physical shoes are all in accordance with HOSHINO's services. After-sale services are available for all products.
*For VR and the Metaverse, scheduled to start in 2023 and onward.
B. Why is HOSHINO releasing NFT-shoes?

Shoes are the Heart of people.
Shoe making is the Art of Craftsmanship.
Shoes are Life itself.

Shoes are the identity of HOSHINO, and they are as important as life itself.
They are connected to our hearts.
They always stay by our sides for special occasions or rendez-vous.

One day, we might not be the only ones wearing them, and we believe in that potential.

Our philosophy at HOSHINO is to make a change in the art of shoemaking.
This is why we are realeasing NFT-shoes.

Shunji Hoshino
    
C. HOSHINO NFT Roadmap
Spring 2022
First Collection release
Fall 2022
Second Collection release
* Schedule to release a new collection every two seasons
Start production and delivery of shoes through made to order system
Fall 2023
Start of delivery service within the VR Field
Start of TrunkShows in 10 countries around the world
Fall 2024
Start of Factory Tours
TrunkShows in 30 countries
Start of TrunkShows in the VR Field
---
---